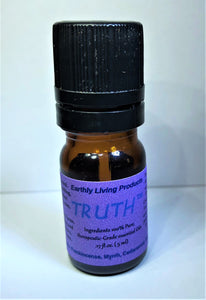 Essential Oil Blend - Truth ™-
Regular price $23.60 Sale
5 ml, .17 fl. oz. Can be diffused or placed topically
Highest quality control of pure organic grown trees and plants, with the repeatable process controls to produce the highest energy essential oil through a distillation process. Ingredients 100% pure, therapeutic-Grade essential Oils
Use For: Promotes energy/emotional balance, confidence, mental focus, spiritual grounding, awareness, healthy skin  and calming.
Ingredients: Rose, Roman Chamomile, pure vegetable oil, Myrrh, Frankincense, Cedar wood, Bergamot,  and Petitgrain. ( order listed highest concentration to lowest concentration)
Promotes: Inspiring elevated atmosphere, refreshing, uplifting, spiritual grounding, calming, radiant skin/hair, fresh air, comforting, calming, cleansing your home or office.
Visit our web site for video's
https://earthly-living-products.myshopify.com