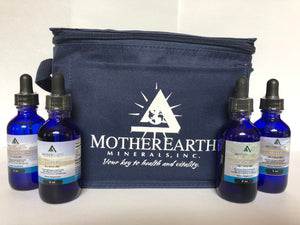 Parasite Cleanse Mother Earth Minerals
Regular price $53.70 Sale
Parasite Cleanse
During the parasite cleanse you may experience some reactions as the parasites die. Such reactions may manifest themselves as rashes, itching, nausea, dizziness and irritability. Work through it if you can but if you are not able to, cut back until your system adjusts to a tolerable dosage.

· Copper – First week – 3 drprful; begin with ½ drprful the first night, 1 the 2nd, 1 ½ the 3rd and so on until the 3 drprful limit is reached. Second and third weeks: 1 ½ drprful daily. Thereafter – ½ drprful daily for one week. Repeat this gentle cleanse three times or until all evidence that parasitic infection is gone.
· Molybdenum – ½ drprful with 10 oz. water (Do not take w/copper)
· Silver – 2 drprful a.m. and p.m.
· Zinc – 2 drprful a.m. (do not take same time as copper).
If you feel you have parasites in your lower intestines, (if you are human – chances are 100% that you do) – you will need to use an herbal cleansing product to remove them as well. I highly recommend a product called CLEANSE for this purpose.
 
Visit our Web store for video's
https://earthly-living-products.myshopify.com